Learn to Powerboat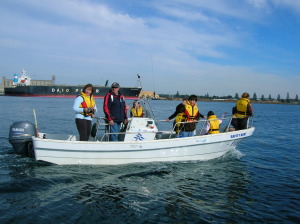 Powerboat
Yachting Victoria offers a variety of powerboat handling courses. Want to learn how to drive a boat? Would like to help out your local sailing club by driving a rescue boat? Completing a Yachting Victoria powerboat course can help you learn everything you need to know from the basics to how to drive at races.
There are a number of different courses available at Yachting Victoria and are listed below:
Start Powerboating
This is an introductory course aimed at teaching people aged 12 and up, the basics of powerboating. These include; practical driving skills, boat maintenance and how to deal with emergency situations. This will give you sufficient skills and knowledge to skippering a small boat.
Powerboat Handling
This course is aimed at people who want to own or be in charge of a recreational powerboat. This course covers the content of the Recreational Powerboat Operator Certificate. Contents of this course include interpreting different weather reports, planning and preparing safe powerboating activities and working with the environment to minimise the impact on the marine environment.
Safety Boat Operator
This course is aimed at people with a desire to be in charge of a safety boat, particularly with clubs or associations with the control and support of racing and training. To complete this course you will need to have completed at least the standard of Powerboat Handling Certificate. This course covers the rules and regulations of safety boat operation, planning and preparing for safety boat operations, manoeuvring a vessel during safety boat operations, applying safety management during safety boat operations and securing vessels during safety boat operations.
Interested in completing a powerboating course?
Centres that offer powerboating courses are:
Albury- Wodonga Yacht Club
Black Rock Yacht Club
Blairgowrie Yacht Squadron Training Centre
Central Victoria Sailing Academy @ BeYC
Scout Vic Sailing & Power Boat Council
www.vicscouts.com.au/power-boating.html
Sandringham Yacht Club
www.syc.com.au/learn-to-sail/powerboat-courses/
Gippsland Lakes Yacht Club Training Centre
www.sailglyc.com/index.php?page=powerboat-handling
Hobson's Bay Yacht Club
McCrae Yacht Club Training Centre
Mornington Yacht Club
Peninsula Boat Training
www.peninsulaboattraining.com.au/
Royal Brighton Yacht Club
Royal Geelong Yacht Club
Royal Melbourne Sail Training Academy
www.rmys.com.au/powerboat-courses.html
Royal Yacht Club of Victoria
http://www.rycv.yachting.org.au
Safety Beach Sailing Club
www.safetybeachsailingclub.com.au
Somers Yacht Club Sailing and Powerboat School
Sorrento Sailing Couta Boat Club Inc.
Westernport Yacht Club
Yachting Victoria - Training
Rye Yacht Club
www.ryeyachtclub.org.au/index.html
1st/14th Brighton Sea Scouts
www.brightonseascouts.org.au/index.html
For more information on Powerboating visit www.boatingvictoria.com.au